So my usual format on recaps this season has been to highlight the major plot points from each episode, then pick my favorites to discuss a little more in depth. I'm still going to do that (or attempt to do that), but instead of plot points, it's going to sound more like the thoughts that were running through my head while I watched. Buckle up!
The Red Lady showed up out of the dark (somehow getting past the Army of the Dead, I think?) and lit up the Dothraki's swords. Visual bad-ass-ness!

However, that light went out quickly as the entire Dothraki civilization was wiped out in a matter of minutes as they ran towards the enemy. Why they went out on their own? I'll never understand.

Now, not only was I sitting on my couch terrified out of my mind (this isn't about me, this isn't about me, this isn't about me), but it seemed like every remaining fighter and character on the show was just as scared. AND WHY WOULDN'T THEY BE??

Then the battle was on! 

They're screwed.

They're screwed.

They're screwed.

Dany and Jon rode dragons.

They're screwed.

They're screwed.

They're screwed.

Dany and Jon rode dragons some more.

The wights got up and over the wall!

Now they're really screwed.

Totally screwed

So screwed.

Dragon fight!

"Dracarys"

Oh, okay so the Night King

can

survive dragon fire!

And he "woke up" the fallen …
Now they're really f***ing screwed!

The final battle scenes with the music in the background? Theon's death? Jorah's last moments? I didn't cry, you did!

HOLY SHIT BALLS ARYA!


Arya
Clearly we need to start here. Before we even get to the amazingness that was her slaying the Night King, we need to discuss her battle scenes. Her twirling and swirling and stab stab stabing was so awesome to watch! It reminded me of how far she's come from her training with Syrio and then all her training with the Faceless Men. My favorite of it all was when the wights were coming up the steps and Arya jumped on their backs, only to roll down them and run away. Or at least I thought that was my favorite part until she was in the library. Again, I think it was a callback to her training (how to be invisible), but that scene had all the classic feels of a horror movie where the evil is right around the corner and the protagonist is trying to not be seen. Brilliant.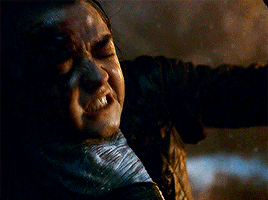 Never, ever, ever in my wildest dreams or wildest theories would I have chosen Arya Stark to be the one to kill the Night King. Oh it was so fabulous too because first she flies out of nowhere, only to have him grab her and have the audience think she's a goner, but she's no goner … she's freaking ARYA STARK and when she catches the dagger in her right hand, slaying the Night King and thus his entire army??? I don't think I've ever cheered for a fictional character more IN MY LIFE than I did in that moment.
RIP
Obviously we knew we would have to say goodbye to some, right? However, if my calculations are correct, the list isn't very long. It includes …
Lord Commander of the Night's Watch (according to Google his name is Dolorous Edd in case you were unsure …)

Lyanna Mormont (ughhhh RIP girl, but thanks for taking out the giant!)

Lightening Lord (whose name Google told me is Beric Dondarrion in case you forgot that one too)

Theon Greyjoy (which yes, was so sad, but did anyone really expect him to make it out alive?)
The Red Woman or Melisandre if you will (thanks for the useless fire and for Arya's pep talk, but overall pffffft! Girl, bye)
Sir Jorah (hit me reeeeeeally hard, even though I did prepare myself for it)
The Night King
I've heard a few rumblings that viewers were upset more characters didn't die. For sure it seemed like those in the thick of the battle should have been overran: Brienne, Jamie, Podrick (seriously, Podrick lived?), Samwell, and Tormund. The way the wights were charging, only then to rise back up from the dead, I don't think realistically the aforementioned should have survived.
However, realistically dragons don't exist either, so if in this world, these characters were meant to live, then they're meant to live; I'm definitely not upset about it. They're all my favorites. They just better not die in some really pointless way by Cersei's army after surviving this battle.
Now What
Um, recover? Seriously, next episode I need them to all sit around a campfire and just talk about how lucky they are to be alive. Let Arya brag about her kill. Bury and honor the fallen brothers and sisters. Speaking of the fallen, how are they going to clean up all the bodies? Ugh, what a mess.
The "next time" looked like everyone is getting ready to go fight Cersei, who in my eyes is now the one, true villain of the show (she outlasted the Night King … ). At first I was all, "The North has no army," but then my husband reminded me they have two dragons. I suppose Dany and Jon also have to sort out who gets to sit on the Throne once Cersei is defeated (if Cersei is defeated? No, no … once Cersei is defeated).
Regardless of what does happen … I hope everyone, including the viewers, get a moment to breathe because this week's episode (almost) too much to handle!

One last thing …
Were Tyrion and Sansa going to kill themselves or go fight? Also, do I ship them?? Completely!