I thought that last week's premier would be one of my favorites this season, but this week's is looking to be my favorite Game of Thrones episode of all time! I mean, Brienne being knighted by Sir Jamie? Arya and Gendry? Before we get to that, here were the main plot points:
The opening scene had Jamie coming before those in charge at Winterfell, with a promise to fight the dead, while Daenerys narrated the terrible things he'd done against her family. Tyrion attempted to vouch for him, but ultimately, Brienne of Tarth convinced them all to allow Jamie to stay.*

Arya and Gendry flirted.

Jamie apologized to Bran; Bran reminded us he's still an angsty teen.*

Tyrion and Jamie reunited.*

Brienne and Jamie reunited.*

Daenerys and Sansa attempted to have a sisterly moment, until Sansa reminded her, "What about the North?" 

Theon returned.

Tormand and the others returned.

All the main players started to strategize battle plans; Bran said the Night King would come for him mostly and wants to be used as bait.

Tyrion and Bran seemed to have a bonding moment.

Jamie and Tyrion discussed the last time they were at Winterfell (Episode 1×1) and that now they will most likely die there; many others came to join their discussion circle.

Tormand told his "giant's milk story."

Arya reunited with the Hound.

ARYA AND GENDRY had s-e-x!!!!!*

Tyrion recounted the most famous battles everyone lived through; Sir Jamie knighted Brienne; Podrick sang.*

Jon told Dany the truth about his past.

and all of this was without a single Cersei scene!!
The return of Jamie Lannister
I freaking love Jamie Lannister and I love him most this season because he left Cersei behind and stared dreamily at Brienne, which gives me hope for them to be together in the end (even though I believe his dreamy looks are more so out of admiration love than lusty love).  Let's dive a little deeper into all the Jamieness this episode.
First Dany needs to cut him a break. Sure, he murdered her father, but it's only because the Mad King was going to burn King's Landing to the ground. Jamie even admits he was defending his home and his family, so why stay so angry with him?
I loved seeing him and Tyrion back together (even though I don't reeeeeally think Tyrion is his brother, but I'll save that theory for later). I loved his interaction with Bran, especially the fact that Jamie apologized, admitted he's changed, and appeared to have an actual discussion with Bran. Most people these days who talk to Bran just get his moody vagueness. 
Lastly, how sweet was it that Jamie not only knighted Brienne, but also said he wanted to serve under her command during the battle against the White Walkers?? Her tears were all of our tears and Tormand's smile was all of our smiles as we watched this lovely moment when Jamie showed Brienne of Tarth the respect she utmost deserves.
Arya and Gendry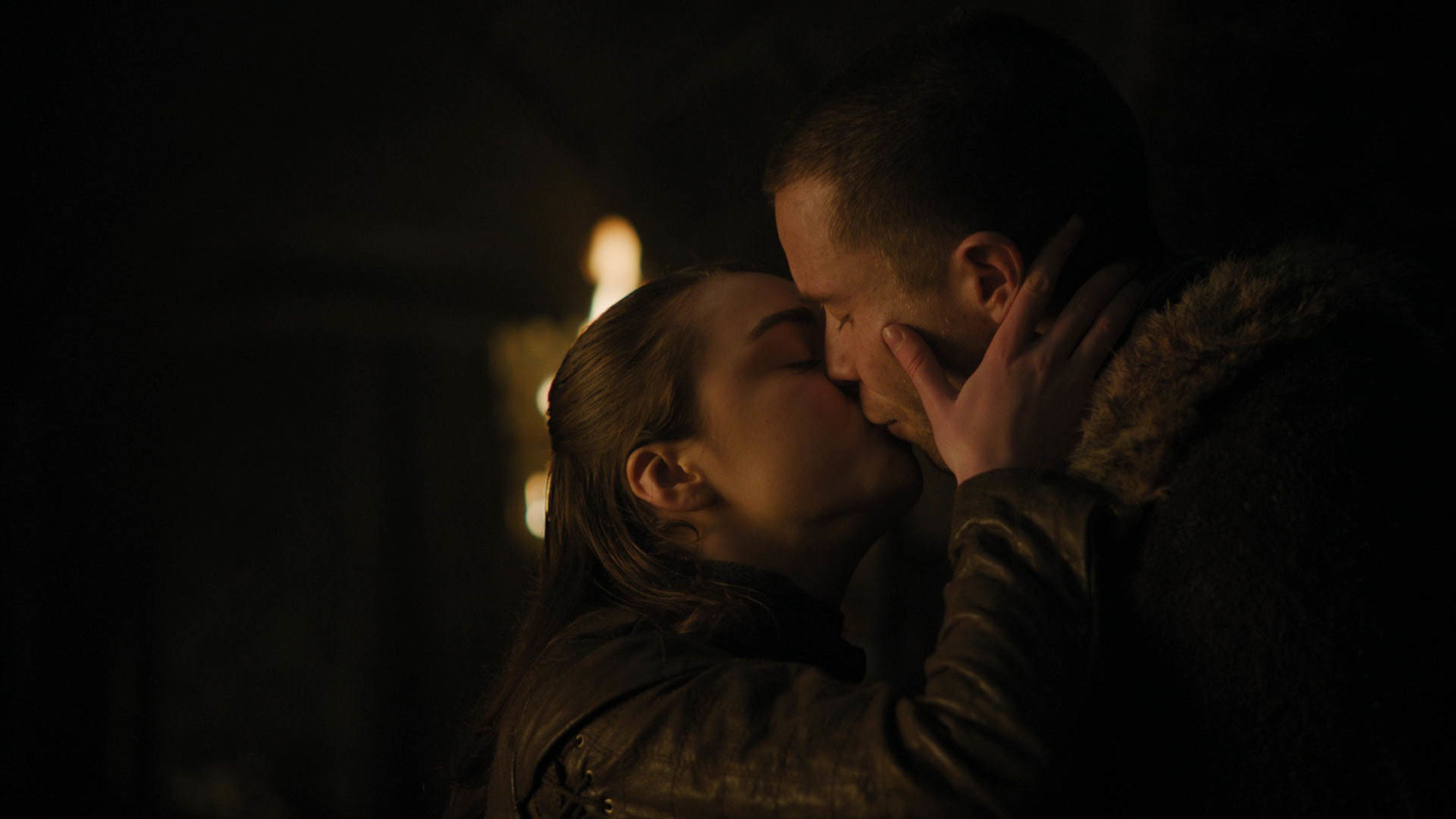 On the one hand, I totally want to be like, "Get it Arya girl!" I mean, we've watched her and Gendry awkwardly flirt for two episodes now, plus felt some sort of connection between the two back in Season 1 when they first met (even if it was only a friendship connection then). Also, Gendry is looking damn fine these days (what am I saying; he's always been pretty fine).
On the other hand (which much of Twitter agreed), to us Arya will always be like what, twelve? I can totally see how this intimate scene was more awkwardsville for fans than most GOT sex scenes. In fact, it might have been the most cringe worthy of them all (even if we did want it to happen). 
Overall thoughts on the episode …
too many reunions?
Game of Thrones can never seem to win with their fans, right? Last season, people were upset because the action was moving too fast (like Gendry really made it back to Daenerys in time, only for her to arrive with the dragons in time, before everyone all froze to death?? Suuure …) and yet now fans are complaining that the first two episodes of Season 8 have had zero action.
I, however, am in the minority on this. If you read my post last week over GOT, you would know I prefer a little more conversation, a little less action. In fact, I am living for all these reunions that remind us fans everything we've endured and everything these characters have endured the past eight seasons. Like, what is wrong with reminiscing a bit? Also, don't tell me this episode was some sort of closure or goodbye to everyone because they're all going to die in the battle against the dead. How could that happen when we still have three more episodes after the fight to end all fights? Logistically, everyone can't die if there are still three more episodes to go, but also the fight can't last for 320 minutes. Guess we'll just have to wait and see … for which I couldn't be more excited! (And scared.)