First Up: The Real Housewives of Atlanta
Kenya comes back for one episode and stirs up a ton of drama?? Bring her back full time!! But before we get into the Kenya of it all, Porsha's gender reveal party took place.  Between her awful hair and the fact that the set up was a disaster, it's no wonder Porsha broke down. I'm not sure I've ever seen a housewife event as busted as that one. And the poppers didn't even work either; hers was blue, while everyone else's was pink! HAHAHA! Sheesh … oh well, it looked like the party ended up being really fun. Congrats to Porsha and Dennis on their baby girl!
But now let's get to the meat and potatoes of this finale: the return of  Kenya Moore.
First, I love love love Cynthia, but the demographic of people drinking Seagrams (college girls) are probs not watching Bravo. I know this because I interviewed one a while ago: Interview with a Gen Z. Seagrams is also just gross, and as the women brought up, contains like no alcohol. However, if Cynthia partnering with Seagrams brings back Kenya and causes drama, I'm here for it.
I kind of see how Cynthia wouldn't tell Nene that Kenya was attending her event because we all know how Nene would react. In fact, Nene probably would have stayed home. While it was strange for Kenya to get up front and center on the mic to make a toast, it seemed like everyone (*ahem* Porsha) but Nene was fine with her there.
It looks likes Nene's issue with Kenya's attendance wasn't ending, it was exploding, seeing as the finale was extended 15 extra minutes, so Nene and Cynthia could have it out. Hearing the audio that Cynthia and Kandi were "on the same page" about not knowing Kenya was coming means they knew she was coming, or was it that they needed to be on the "same page" about the possibility of her coming? Regardless, go look at Nene's social media; she had some words to say about her and Cynthia's friendship. Here's to looking so forward to next Sunday; be sure to stay turned for my recap of the Atlanta reunion once it's aired entirely!
Next: Vanderpump Rules
"Puke and rally, puke puke and rally!" Gah, is there anything better than a Vanderpump vacation to Mexico? Being pregnant and 30, I've forgotten what a s***show one can become when drunk … let's examine, shall we?
Type A: Stassi — the drunk in which the world revolves around you, no one can tell you no, and where maybe you don't want to get up and dance because you're wearing a freaking maxi dress with Spanx (or you're just too drunk).
Type B: Ariana — the type of drunk where you are making absolutely no sense to anyone around you, yet, in your brain you're freaking Albert Einstein.
Type C: Beau — aka the crier. That scene with Stassi and him discussing their "issues" and how their pasts (well mainly Stassi's past) affects their relationship …. at one point, my husband turned it me and said, "Oh my goshhhh their so drunk."
Most notable moments from the episode included: the fomo infomercial, Jax giving Stassi actual, solid advice, and everyone just getting along. If I've said it once, I'll say it again … I could watch an entire season, sans drama, of just the group getting along. I love their crazy ass friendships, and I am waiting for the adoption papers to be signed so I can join!
The Real Housewives of Beverly Hills
Am I the only one a little underwhelmed by the LVP/Kyle fight? Except for Kyle being honest/standing up to Lisa for once, and Lisa raising her voice more than normal, nothing really shocked me. That came at the end though, back to the beginning of the episode.
We're on episode EIGHT of this season and yet we're still discussing this Vanderpump dog issue: the opening scene was at the shelter, Teddi's charity cycle event was to raise money for the shelter, we needed to know who leaked the story about Dorit's dog from the shelter, let's watch CNN at the shelter!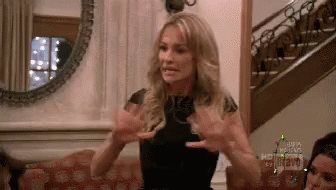 However, "real friends show up" and that means go to lunch together after a cycle class. Who would have ever guessed that Denise would be the voice of reason in this whole saga, first questioning why LVP couldn't make both events that day, then being the first person to ask Kyle if she's ever known Lisa to leak a story to the press, and finally giving Dorit a press peptalk … a "presstalk!" At the same time, I enjoyed seeing the women band together against LVP (although I was totes shocked when Rinna called her "Lisa Vandertrump" later on in the episode, for realsies #notcool).
I felt like the entire episode went by so fast, and before I knew it I had ten minutes left to watch Kyle and Lisa argue. My only real thought watching was why would Lisa and Ken get beyond defensive if they did nothing wrong? I can see how Lisa would be hurt because the one person who always defends her is now questioning her, but after Adrienne and the surrogate, Camille and Taylor's husband, Brandi and the suitcase magazines, Yolanda and the Munchhausen,  to this … what is Kyle supposed to think? When does Kyle actually get to probe Lisa? The time is now my friends, and I can't wait to watch it all unfold in the next coming weeks!
Lastly: The Real Housewives of New York
… which, I decided to just watch as a fan this week, instead of blog. I promise to write a RHONY post soon, perhaps the Berkshires next week? For now, I am #TeamBrunette & #TeamSonjaMorgan so far this season!
Keep following for more Bravo related content, celeb content, reality TV content, and more!!