Tequila, monkeys' assholes, & broken glasses
Jersey is BACK! After many seasons of snoozeville, The Real Housewives of New Jersey has returned with the heat … and I'm not just talking about the weather in Mexico.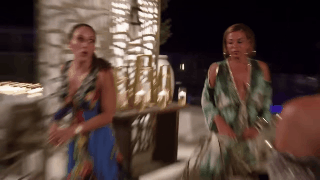 Let's begin with that first dinner in Cabo…
I think it all starts with Jennifer drinking. Listen, do I blame her for getting white girl wasted in Mexico? Hell to the no … we've all been there. I gave myself a black eye once in Mexico when I slipped and my face broke my fall. However, Jennifer calling Teresa's gift ugly (drunk or not) was inappropriate and rude.
I also find it interesting that Margaret can say whatever she wants in response, fully sober, and yet for me, she's never wrong. The obvious housewife response to Jennifer's necklace attack is a returned below the belt comment. The Marg did what the show asks of her with the whole lip liner looks like a monkey's asshole comment.
And while I may be Team Margaret (& probably always will be), Jennifer's response of "Yeah, a monkey's asshole, that you f***ing sucked, probably!" will forever go down in housewives history along with
"Get off my jock"
"Who gon' check me boo?"
"Jesus jugs"
and "Prostitution whore!" You can watch the women's reaction to the whole argument here.
Honestly, thank you ladies. It was amazing television.
But wait, we aren't done …
The sun did come out eventually and tempers cooled off, yet, round two was coming. While the ladies did enjoy some pool and shopping time (who takes their Chanel bag out on the streets of Mexico?), at the second dinner (was it really only the second dinner?), Marg and Jennifer were back out at it again. I don't even remember how it all got brought up, but in true housewife fashion, past comments never really die. The conversation turned to the remarks Jennifer had made about Margaret's mother cheating with a married man, as Margaret did herself. The Marg fired back with comments about Jennifer's husband sleeping in the pool house and having a girlfriend.
Relive that here.
Anyone who thought Margaret was a terrible human for the comments she made at this dinner is so wrong because The Marg immediately apologized when Jennifer returned to the table (what, less than 10 minutes after making the mean comments), and told Jennifer she said them just to hurt her and there was no truth in the comments. This is honestly huge because apologies in the housewives' world can take weeks, months, and even years to produce. Margaret admitted right away she was wrong.
While it seemed the dust was finally settling in Cabo, a hurricane called Danielle Staub was brewing, and broken glass, threats, & fueled tempers would be left in her wake.
If you haven't caught on yet this season, please realize in New Jersey, you do not mention children, parents, or husbands in an argument. Danielle is so slimy, of course she brings up Margaret's children (& even her grandchildren) in an argument that I'm not even sure where it started in the first place. (Can't these ladies have one nice dinner on vacation?). Margaret being the queen of the trip she is, took Delores's wine (because why waste her own drink) and threw it at Danielle. My favorite part of this whole scene was by the time everyone stood up and Danielle was ready to retaliate, Margaret was already walking up the stair, sashaying in that green dress of hers.
"Had Danielle talked about my children, she'd have no teeth left."
"Teresa, this one [points to Danielle] has you going in f***ing circles."
The drama didn't stop there because Melissa then got upset that someone broke or threw a glass at her (while she was pointing fingers at Danielle and Jennifer). This led to crazy-eyed Jennifer to break another glass, hold a shard of it at Melissa, and say something along the lines of "if I threw a glass at you, you'd know"
Yeah … that man in the scene? That's security.
Who's exhausted at this point and just wants to fly home to Jersey? On this week's episode the girls did just that, and even appeared to eventually all make up: Teresa and Melissa, Teresa and Margaret, Jennifer and Dolores, Jennifer and Melissa. But where was Danielle?
The Danielle of It All …
This shady bitch (in my opinion) is the sole cause of many arguments this season. You can "boo hoo" all you want about how horrible she was treated on social media regarding her behavior on the show, but honey, you signed up for all this.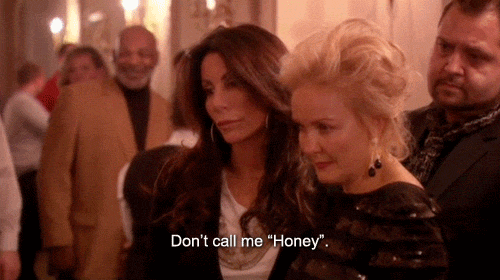 First, her treatment of Margaret and all the women at her wedding was absolutely atrocious. While she did apologize for it on WWHL with Andy, still not okay. After her wedding, she was still twisting words to show Margaret in a terrible light with the other ladies. And finally, at the explosive, glass shattering dinner in Mexico, Danielle was the one to bring up the Marg/Jennifer fight (which had already been squashed), and then wouldn't let the conflict go by taking it to another level discussing Margaret's kids.
I have nothing even left to say about Snobielle Stupid Staub; we'll let her run her mouth at the reunion. Speaking of the reunion, it sounds like it's set to be explosive, AND it's sooner than you think because next week is the RHONJ season finale.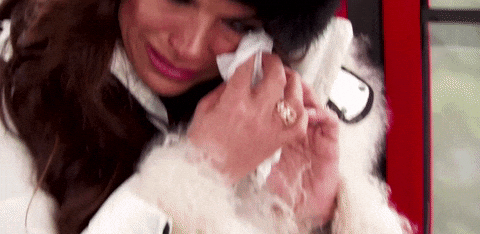 Overall, this season has redeemed New Jersey as queens in the housewives' universe and I can not freaking wait for the next coming weeks as we wrap up it all up!