Welcome back Mr. Peck-tacular & goodbye Bayleigh??
Wednesday's Veto
Going into tonight's episode, I couldn't be happier that Tyler was on the block; don't get me wrong, I love Tyler and I think he's playing the best. I was just happy Haleigh finally figured out his snakey ways. However, I also knew he'd probably get himself off the block because he is a beast in competitions.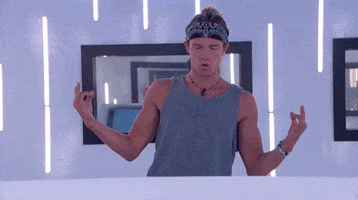 I have never ever seen someone in this type of competition who finishes second to last actually claim the Veto. I still haven't decided if it was a good or bad move by Tyler. The plan to put up Bayleigh doesn't really surprise or upset me; she went on an insane power trip last week. Yet, I am not an Angela fan at all! She did her girl Rachel dirty and I'm just not here for bitchy females. What I would love to see happen is all the girls banding together to get the boys out. I can't wait to watch tomorrow to see Bayleigh absolutely flip her shizzzz!! (Spoiler … there is an intense house meeting) !!!!!