The RHOC Season 13 trailer dropped yesterday and it got me thinking …
Through the years, what has been the most shocking Real Housewife moment for you? (Oh by the way, you can watch the OC trailer here!) Now I'm not talking story line that continued throughout multiple episodes, like Brooks's fake cancer, Kim's sobriety, or anything about Tom. I'm talking one moment. One moment where your jaw hit the floor, and it was hard to pick it back up.
I came up with four moments that were unforgettable for me, plus a few honorable mentions. After reading, come find me on Twitter to discuss these moments and to discuss what more should be added.
The Wine Throw
In season 6 of the Real Housewives of Orange County, Tamra stunned viewers with the splash heard around the West Coast. Tensions had been rising between Tamra and Jeana, and if I remember correctly it was because Tamra felt Jeana was siding with Simon over Tamra & Simon's recent separation, or that Jeana was speaking to the press about it. Regardless, we all knew Tamra was a loose cannon, but I think she had an reaction even she didn't see coming.
You can tell the argument is escalating, especially after Tamra throws the cease and desist letter at Jeana. But then, that wine throw. Even watching it back now my jaw still drops; Briana's reaction is priceless too! After this unforgettable OC moment, throwing wine (& wine glasses) became a Housewife staple!
The Leg Toss
One illustrious woman from the New York Housewife franchise is Aviva Drescher; I mean "CALM DOWN! TAKE A XANAX" wouldn't be one of the best comebacks if not for Aviva starting the fight in the first place. But the most memorable Aviva scene wasn't when she told the story of how she got her artificial leg, but when she took it off and THREW IT ACROSS THE ROOM!
"The only thing that is fake or artificial about me … is this!" She slams the prosthetic on the table and then throws it on the floor! Oh my gosh, that quote could not be any more iconic! I just hope she had her pedi done for that toss!
The Reunion Drag
On season 6 of the Real Housewives of Atlanta reunion, Housewives fans got their first taste of physicality. We were teased and teased that something major would be happening on the reunion, but when the whole thing finally played out, it was IN SANE!
I am not one for physical violence ever, but even watching it back now, how can Kenya not see she provoked Porsha? Oh gosh and Andy yelling, "No, no, no!" over and over makes the whole thing even crazier!
The "Beast" Comment
Kim Richards is not afraid of a confrontation, but I think this by far has to be my favorite of hers. I know this was on a vacation but I don't remember what city, what season, or what the ladies were even arguing about. What I do remember is the infamous quote from Kim.
I could watch this on an endless loop! If Kim using "beast" as an insult isn't funny enough, Eileen's "I'm so proper, did you just say that?" reaction makes it even better. I definitely think "beast" is going to go into my bag of insults next time I get heated with someone.
H

onorable Mentions & Best Quotes
The Real Housewives franchises are a television staple, and will withstand time because they never cease to shock us. I know these are not the only lasting moments the ladies of Bravo have brought us. With that being said, I wanted to include a few more iconic moments, that even non-Housewife fans probably know about.
I feel comfortable using Housewife jargon in everyday life … and here are some of my favorites!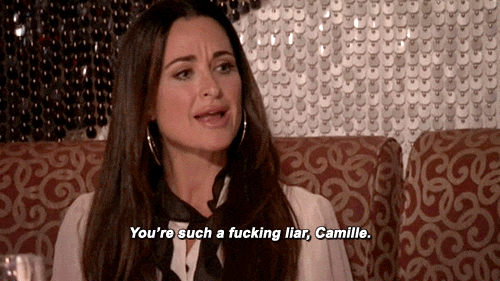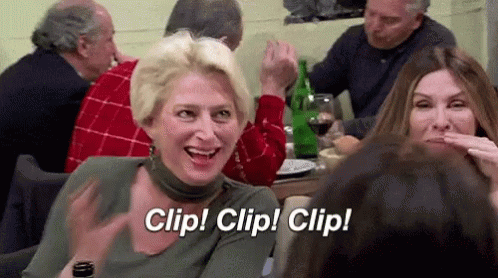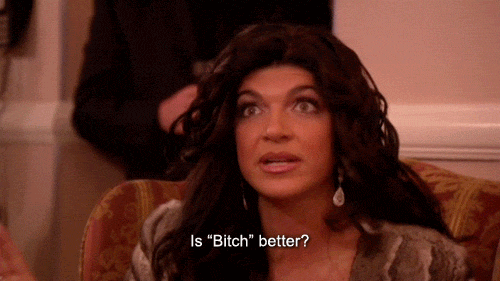 Sometimes all I wish Bravo would do is take a cue from E! and play past seasons of the Housewives on a loop, in a similar fashion to how E! basically only airs Keeping Up With the Kardashians. I know many times you can catch Housewives marathons, but how nice would it be to know that any time in the day (minus the prime time spots), you could watch past seasons of RHOC, RHONY, RHOA, RHOBH, & RHONJ. Think how many more fans could be gained as well! There is just too much history for it not to be shown on continuation. Think about it Bravo, just think about it …