I am having a major Royal Wedding ending hangover, but luckily I can relive it all here! 
Welcome to My Hollywood Hangover, a pop culture blog started by a small-town, Kansas girl, obsessed with all things celebrities and Bravo TV. If you have never visited the site, go ahead and click on the four lines in the top right corner. There you'll find all our past posts and you can also subscribe to get posts sent straight to your email the moment they're released! If you aren't new to MHH and are a friend … it's so good to be back!! I've missed missed missed you! Unless you live under a rock, wait scratch that, I have absolutely NO IDEA and no words to even describe how you wouldn't know the Royal Wedding was this past weekend. It was absolutely EVERYWHERE, on every channel, and on every social media. I was here for ALL OF IT!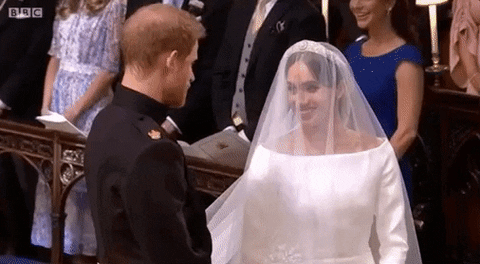 I remember being in college and waking my boyfriend, now husband, up at who knows what time to watch William and Kate get married. I wasn't as into it as I was this wedding (we'll get to that shortly), but I knew it was a global big deal and wanted to be witness to it.
Since I feel closer to Meghan and Harry's ages, plus am obsessed with The Crown, and have read multiple Royal biographies, including Diana: Her True Story, I was way more invested this time around. PLUS Meghan is AMERICAN (not to mention bi-racial and a divorcee). With we learned anything from Wallace Simpson, this wedding was going to be a HUGE HUGE deal! I also learned from Vanity Fair's 'Love and Royals' issue, Meghan and I are birthday buddies, so safe to say … I'm obsessed!
So let's get right to it shall we?!
Favorite Hat:
Hats on hats on hats! I'm not sure if you knew this but "tradition calls for morning dress and morning dress calls for a hat" according to Vanity Fair, so hats were required at Harry & Meghan's wedding. Boy did we see some! My favorite, however, had to be Camilla Parker Bowels.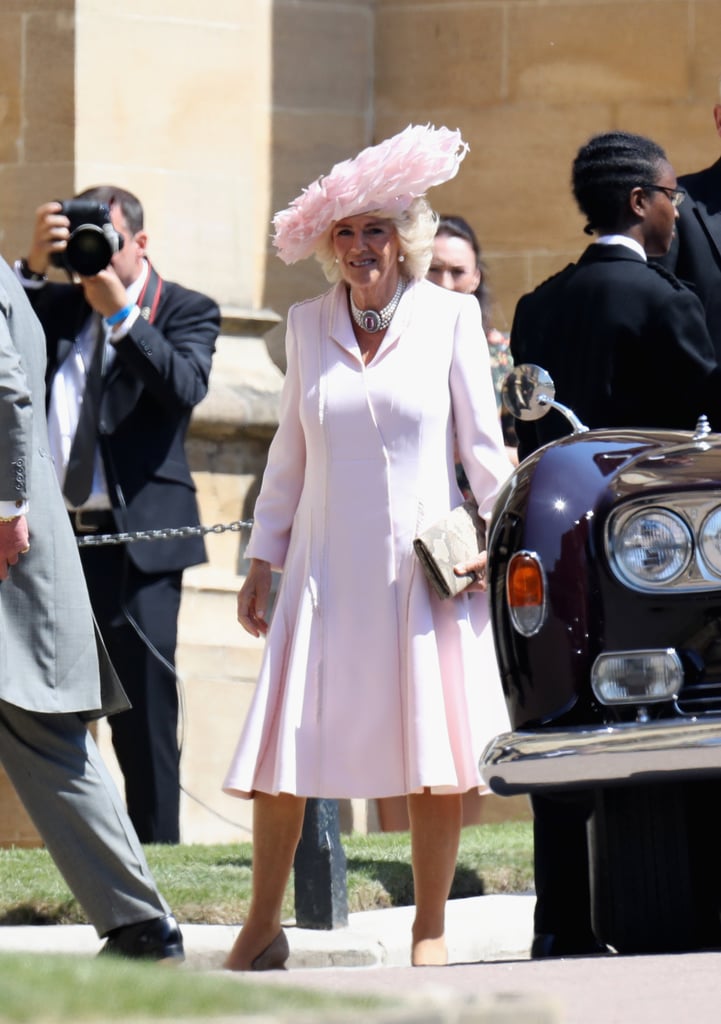 While she may not be my favorite person in the story of the Royal Family, England has come to embrace her as a part of it. I loved the pink, I loved it's size, and I loved the feathery look. Her hat synced her whole look together. Speaking of…
Favorite Look:
I did NOT want to give this award to this person, but there was no arguing. The person who had the entire look from dress to hat to shoes to plus one was Amal Clooney

The canary yellow was bright and festive, fit for the beautiful day. The veil was subtle and perfect, but added to her hat. And that train on her dress?! If you watched live and were tuned in to the Today Show, Hoda and Savannah couldn't stop talking about the train of her dress. The reason I say I didn't want to annointe Amal with best look is because she's an obvious choice. But, as I was watching back clips of guests walking in, Amal *literally* (Chris Trager voice) looked like a sculpted model. Serena Williams and Doria Ragland were runner -ups!
Most Disappointed:
I'll come right out and say it: Abigail Spencer.

Google image search her and include the words "Timeless character" and you'll probably get something very similar to this look right here, hence I say, she should have stepped it up for the Royal Wedding!
The Dress:
I figured Meghan wouldn't wear anything flashy because a) the Royals are more understated, b) this is her second wedding dress, and c) she's 36. When you're mid-thirties, marrying for the second time and it's to the Prince of England, flash isn't a word used to describe the dress you'll be wearing.
So with that being said, I thought her dress was boring. Now, before you get set to argue me, it was only boring in comparison to Kate and Diana's. Kate's dress will go down in history as my favorite wedding dress ever, but that's because I'm a big lace fan. My own wedding dress was covered in lace.
However, Meghan's dress was absolutely perfect for this wedding and for her. It was elegant, simple, graceful, and I think the term all the news outlets used was regal. Because of that, it was perfect.
Many were saying Meghan's makeup and hair were basic. I thought so too. But, the more I went back and looked at images of her and her dress, I actually liked that she had very basic makeup. I like that she looked like herself, kind of like an everyday Meghan. I wouldn't want her to be wearing so much makeup, she didn't look like we'd expect. Plus, she had enough love and Markle Sparkle in her eye, she didn't need a ton of makeup!
The Ceremony:
From the moment Meghan walked in by herself with grace, to Prince Charles leading her to Harry, the ceremony was beautiful. I love love LOVED the performance of "Stand By Me" by that gospel choir. But, my absolute favorite moments from the ceremony had to be how nervous Harry looked & his sweet sweet words to her. If you don't know what I'm talking about her, simply look it up and you'll find a million gifs of him saying things like, "You look amazing" and "I'm so lucky." They both looked extremely in love; you could especially see it in their eyes. Also, for as nervous as Harry looked, Meghan looked cool as cucumber and super poised, which just shows that she can be the ying to his yang!
Final Thoughts:
If I didn't already mention it, the wedding was everything to me. I loved how much of a big deal with was, how excited the world was, and how happy both Meghan and Harry seemed. I especially loved loved loved Meghan's evening dress and that cool car Harry drove them in.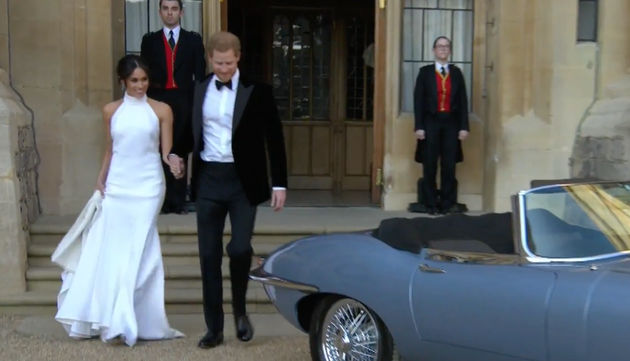 I'm so unbelievably sad it's all over, but so incredibly happy I got to witness it and had social media to share my thoughts. Speaking of sharing my thoughts, school is out in two days! Then My Hollywood Hangover will be back in full force, and is planning to be bigger and better than ever!
If you're not already subscribed to receive our posts, you can do so (as I mentioned before) in the top right hand corner. You can also follow MHH on Twitter and IG. Just search our name! Until next time …