As Chris Harrison said, "Time is precious" so I won't waste your time today; this is a pocket-sized post: Bachelor edition.
As the episode started, there were 18 women, but I only have five points to make.
1. Tia over Bekah
So in the beginning I thought Tia was just there to be the next Raven and wasn't genuine, but you know who I did think was so awesome and so genuine? Bekah. But, WHAT was I thinking?! I literally did a 180 on this thought based off the wrestling date (more about the wresting below).
I would have COMPLETELY acted like Tia did on that date: getting upset, not taking those dumb@$$, washed up, 1980's wrestler ladies seriously, and awkwardly smiling the whole time, only to get scolded for it. In the end, Tia was a good sport about it because that's really the only thing you can do in the situation. I'm so sorry Tia I misjudged you.
Now, Bekah. Ehck! I get she's trying to be the "confident because I know who I am" type. Girl, you're 22! You have no idea who you are, no matter how cool and hipster and trendy and old soul you try to be. OH! And what about her comment that Arie knows she doesn't need him; WHAT! Oh stop with your pixie cut, I know Arie really likes me, confidence. So over you.
2. Lauren S for Bachelorette
I think since we saw her pack her suitcase before the date, we knew she was going home. However, I loved her! She's so beautiful! Plus she wore tennis shoes with that gorg red dress at the winery; how many girls would have worn skinny heels instead? I feel like Lauren S. knows herself, is mature, and is honest. I think she knows herself so well, she knew it wouldn't work with Arie. This led to her not being herself on the date, and then led to her leaving. What I think now is we should all rally to get her as the next Bachelorette!
3. Dog Date over Wrestling. Obviously. 
Seriously can you think of something worse to do than that wrestling date? The G.L.O.W. ladies were horrible to the Bach girls! Even Arie wasn't down for the wrestling date, so WHY make the girls do it?! The only good part was we got to see Kenny for a short period; missed him!
4. UGH Anneliese.
If Anneliese doesn't have a therapist, she'll definitely need one after that kiss rejection: "We aren't just there yet." (And he didn't mean yet; he meant never!)
5. Bibiana is a queen!
First, her mom gets dissed by those awful wrestling ladies (I really do not like them!). Then at the cocktail party, her setup got stolen by Arie; I mean let's be honest, he took quite a few different women to that daybed and presented it almost as if he came up with it himself! THEN WE DIDN'T EVEN GET TO SEE THEM AT THE PARTY TOGETHER!  Finally, she was the only one sent home out OF 17 PEOPLE! When Bibiana left she said, "I deserve real love!" Remember girl, we all love you! At least we'll be getting more Bibiana in February for the Bachelor  Winter Games!!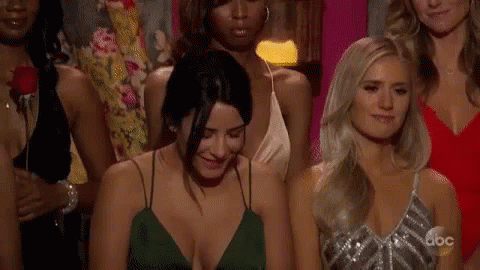 Until next time…