Orange County has been on as long as my students have been alive. So class, raise your hand if you remember Jo in her maid's outfit?
Raise your hand if you remember Vicki's small van rant?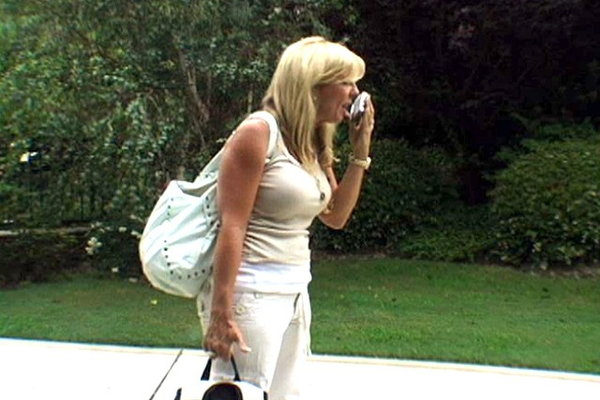 Raise your hand if you remember Tamra throwing wine at Jeana? Drunk Gretchen ("Tam RUH!") or the Brooks cancer scam?
Yeah, it's been a crazy twelve years with the ever changing cast of Orange County Housewives and here we are again for another rollercoaster reunion!
Loved:
Although Meghan was beyond annoying this season, her hair looked great (dress & shoes too!) on the reunion! Tamra's earrings were on fleek and Shannon's weight was looking good!
How much support Shannon got regarding her weight and David; not sure some of the other women would be this strong enough to put it all out there like Shannon did. PROUD of her also for being a good mom and role model for her daughters in making the decision to separate.
Anyone else like how Peggy had to turn to Andy for advice in order to escape from the three Blonde Bombshells on the couch … Andy can't save you Peggy!
TOTALLY KNEW MEGHAN WAS GOING TO ANNOUNCE ANOTHER PREGNANCY ON THE REUNION; ugh …..!!! I'm really only happy Jimmy is finally getting a boy.
Questions:
I'm still really confused about why Tamra's daughter is so so upset with her; is it all just because of the divorce? Or is it all because of the show? I mean, thinking like a daughter maybe I can see it … maybe I can see how having Tamra as a mom may be difficult BUT I'M NOT CRITICIZING HER! I LOVE TAMRA! (her facelift looks amazing as well!)
Who knew Shannon's maiden name was Storm (Storme?). Also, did anyone count how many times she said "I'm done!" ??
Shockers & Surprises:
Damn Lydia! Chill ouuuuut! I agree with all the people who said Lydia came for everyone this year so she could have more of a storyline. She was not nasty like this the last time she was on the show. I mean, calling Shannon all those crazy references, umm pretty sure the Bible does not condone name calling…
I'm really proud of Kelly this season (blogger say whaaa). I'm just proud of her for making up with the girls, not getting too much into the drama, and being strong about everything with Michael. She even said Shannon was a good person #whoa !! On her side against Meghan too!
Holy Vicki shedding tears for Shannon's marriage; I don't feel it's fake. Do you?
Additional Thoughts:
Shannon & Tamra's friendship remind me of LeeAnne and D'Andra from RHOD.
Peggy is so irrelevant; barely spoke during the reunion. BRING! BACK! HEATHER!
Hahahahaha! Nothing was wrong with Vicki in Iceland; she was just on drugs!
It was nice they all made up at the end (Vicki, Tamra, Shannon) buuuuuut I'm kind of over it; blah blah blah, come sit on my couch; it was also awkward to watch all the other women watch. I'm not convinced they're back … true fans have been here before.
Prove us wrong ladies.
Here's to another twelve years!