It's Riverdale Season 2!
Seriously if you do not watch this show, cancel all your weekend plans, borrow your neighbor's Netflix password, and don't leave your couch until you've watched the first season. Then, find the CW app and binge the first four episodes of the second season. It's worth it.
So much has changed from the first season, yet so much remains the same so let's dive right in!
Archie Andrews is still awful …
I would say the first two to four episodes of season one, I really rooted for Archie. Even though he broke my heart when he broke Betty's heart, I figured I'd still give him a chance because at least he was honest. But then he got so whiny about Ms. Grundy, then Val from the Pussycats, to finally ending up with Veronica (and I don't ship them; sorry I just don't). Plus his dye job is so horrendous, that adds to my loathing.
Skip ahead to season two and I hate him even more! I know Luke Perry got shot and he should be worried for his dad but come onnnnnnnnnnnnnnnn! This Red Circle, buy a gun, fight the Serpents in the rain (which I will discuss in a bit) is such nonsense. Like, go to school, play football, & lock your doors at night like the rest of the town. He's actually insufferable; I don't want to blame KJ Apa or the Riverdale writers for possibly trying to hard (are they this season?). I'm just going to put the blame all on Archie. Here you are again being whiny, yet outwardly trying to be tough and I'm done with it. The reason Archie feels the need to be so tough brings me to my next discussion point …
The "Black Hood" …
So last season's storyline was all "Who killed Jason?" and this season is all "Who shot Luke Perry?" but then that chester molester Grundy died pretty gruesomely, and then (what the heck!) Moose & Midge get shot; next thing we know we have a serial killer on the loose in Riverdale known as the Black Hood. We found out last night he's (or she I guess) is doing it all for Betty … because of some speech she made? What speech? I don't remember this. Anyhoo, this black hood character claims he's getting rid of all the bad things in town (an adulterer, child abuser, & drug fiends).
Sidebar: How did Archie's dad commit adultery? I thought they were divorced …? Anyway, I'm sure this is now the driving force for season two … who do you think the Black Hood is?
Serpents vs. Northside, aka, "The Rumble" …
If you know anything about classic literature, you should have read The Outsiders (or you probs read it in 7th grade). That huge fight between the Serpents & Archie's clan had to be a shout-out to the big rumble that happens between the Socs and the Greasers. Leather jackets vs letterman jackets, poor vs rich, no weapons … I MEAN COME ON THEY EVEN MADE IT RAIN LIKE IN THE MOVIE!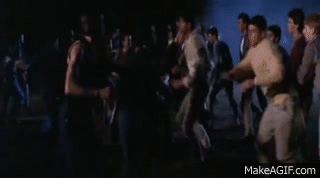 Can anyone confirm if this scene really was supposed to pay homage to The Outsiders? And, if you're sitting there scratching your head thinking "Outsiders?" then as soon as you're done binging Riverdale, FIND THIS BOOK AND THE MOVIE AND READ IT THEN WATCH IT!
Afterdale …
You know how I'm absolutely obsessed with The Morning Breath hosted by Jackie & Claudia Oshry? Well, they started a show (via Youtube and the Podcast app) where they recap each episode.  God's gift to Riverdale fans + Breathers.
Additional questions, comments, concerns, & theories …
It took me two episodes to realize Veronica's dad was Kelly Ripa's husband and I can never look at him the same again.
I forget why Jughead's dad is in jail; is he taking the fall for Cheryl's dad and if so, why again?
Speaking of Cheryl, where the F has she been this season?!
I think the Jingle Jangle drug will become more of a focal point of the plot this season — possibly with Veronica's dad as the drug lord? (shout out to Claudia & Jackie for this theory)
Why does Veronica want to get into the family business & why should I care … so she can keep "an eye" on her dad? Ugh I'm getting sick of that family real quick.
Jughead is def going to cheat on Betty with the loser Serpent girl Tommi Tommi … Toni Tommi … Tonnie Tomlen … whatever I'm getting cheese fries.
I. NEED. MORE. JOSIE. AND. THE. PUSSYCATS. ON. MY. SCREEN!!!!!!!!!!!!!!!!!!!!!!!!!!!
Find me and let me know all your thoughts on this season of Riverdale; and if you're not watching, go now. Seriously go … shut your screen, turn off your phone and go. I'll wait.